Bruce Arians Wanted To Draft Deshaun Watson
February 17th, 2022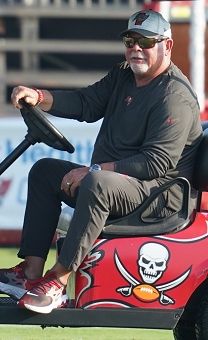 Arizona Cardinals fans had many sleepless nights in the years following the 2017 NFL Draft.
Back then, their beloved head coach and quarterback whisperer, Bruce Arians, was gearing up to draft a quarterback to replace Carson Palmer.
But history was unkind to the Cardinals. Slotted with the No. 13 overall pick, Arians and his general manager were ready to pounce on Patrick Mahomes and their second choice was DeShaun Watson, who was not yet creepy and sleazy. But Kansas City dealt two first-round picks and third-round to vault up the board and draft Mahomes at No. 10 overall. Then Houston grabbed Watson two picks later and the Cardinals were left to choose outside linebacker Haasan Reddick.
The rest, as they say, is history.
Arians was very public after the draft, stating that atop his wish list was Mahomes and that the Cardinals were eager to pull the trigger on Watson at No. 13, if Mahomes was gone.
This is of interest to Joe as the Bucs are desperate for a starting quarterback and the Texans are desperate to trade Watson, who is saddled with 22 civil lawsuits tied to various forms of sexual misconduct. Not one or two — twenty-two. (Joe can almost envision an auctioneer hollering, "Do I hear 23? Twenty-three?")
Arians being ready to draft Watson means he put in a ton of homework on him, from film to interviews to background work and more. It's a bigger deal than it may seem that he went public to say he wanted Watson.
Just a little history to keep in mind as the Bucs hold their noses  sniff around for a new face of the franchise.