Who Will The Bucs Play Next? Mike Evans Has A Preference.
January 16th, 2022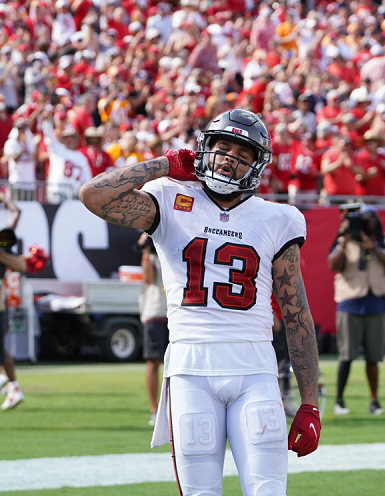 Man, Mike Evans was one happy dude after today's hammering of the Eagles at The Licht House.
Evans deserved and earned the big grin on his face.
Through four postseason games last year, Evans caught a total 11 balls for 204 yards and 2 touchdowns. He was in that ballpark today alone, catching 9 balls for 117 yards and 1 TD.
Evans is a huge sports fan and a true and deep NFL fan. So Joe asked Evans what team he would like to face next week in Round 2 of the playoffs. The 49ers (No. 6 seed) play the Cowboys (No. 3) this afternoon, and the Rams (No. 4) host the Cardinals (No. 5 tomorrow night).
The best receiver in Bucs history had an interesting reply.
He wants to see whatever team "plays the most man coverage."
Joe asked Evans if he was surprised to get so much man coverage against the Eagles today, and Evans said it wasn't a ton but it certainly was a hell of a lot more than the zone-zone-zone diet fed to the Tampa Bay offense when it faced the Eagles in October.
When will teams learn? Covering Evans 1-on-1 is usually a death sentence unless it's Jalen Ramsey and occasionally Marshon Lattimore.
So Joe is rooting for the Cardinals and the Cowboys. Yeah, the Cowboys. Joe sees that aggressive defense and has visions of big plays.