Vikings Want To Interview Todd Bowles
January 15th, 2022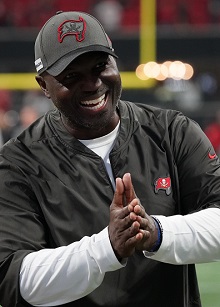 This is especially interesting given the Minnesota Vikings' other interests.
Per Adam Schefter of ESPN, the Vikings have requested to interview Bucs defensive coordinator Todd Bowles for their vacant head coaching position.
So why is that interesting, Joe? Well, the Vikings also previously asked to interview Buccaneers VP of player personnel John Spytek. It's unclear whether that interview happened, but perhaps it did and Spytek explained why his first choice for his first head coaching hire would be Bowles.
That wouldn't surprise Joe. However, Joe would be surprised if Bowles was hired in Minnesota, which just moved on from a defense-first head coach. Going with back-to-back defensive guys is rare. And Bowles' New York Jets resume was brutal.
Bowles has generated no head-coach interest to date from the New York Giants, where the organization was able to keep a close eye on Bowles during his Jets tenure. And Giants fans and observers seem disinterested.
Former Giants Pro Bowl running back Tiki Barber, a New York sports radio voice, spelled out his list of preferred candidates to be the Giants' next head coach. Bowles didn't make the cut; Bucs offensive coordinator Byron Leftwich did.