Tom Brady Shares A Non-Retirement Message On Instagram
January 25th, 2022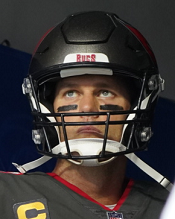 Joe often has said that everything Tom Brady does is highly calculated.
It's why Joe doesn't believe Brady is retiring. Does anyone believe Brady would retire after letting all kinds of nonsense swirl around him like it has the past two days?
Today, Brady took to his Instagram account to share thoughts about the rampant interest in his 2022 football career. (The cut-and-paste job below is via ProFootballTalk.com.)
"I understand that at this stage in my career, there is going to be interest in my future whenever a season ends, but this week, all that is on my mind is the gratitude I have for this team and the fans that have supported us all year long. This year has been incredibly rewarding personally and professionally and I am appreciative of everyone who worked their ass off to help our team achieve so much. I always want to win, I think that's pretty apparent by now, but that doesn't mean I equate losing to failure, especially when you go out fighting the way we did. There's so much to appreciate in a season like this when you're surrounded by a team that believes in each other, and plays for the people standing on either side of them. I'll spare you the Man in the Arena quote, but that feeling is something that I promise I'll never take for granted. To everyone that was a part of it this year, thank you. I love you all!"
No, there is nothing new and exciting here. It's a different written version of what Brady said last night on SiriusXM Mad Dog Radio. As Joe wrote on Twitter during the show, Brady doesn't sound like a guy walking away from the game.
He sounds more like a guy who wants people to think he might quit. #Leverage
Hearing Tom Brady talk tonight on @MadDogRadio about how much he loves practice and all the bonding and fun with teammates, he didn't sound like a guy that wants to quit. Emphasized how incredibly good his football body feels.

— JoeBucsFan (@JoeBucsFan) January 24, 2022
Enjoy Today's Ira Kaufman Podcast.