Tom Brady: I'm Satisfied And Pleased With My 2021 Regular Season
January 11th, 2022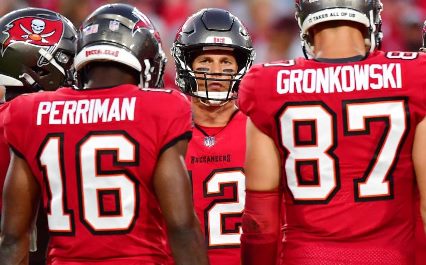 The Goat isn't getting soft, but he is sending a loud message that he's happy and content in Tampa.
Brady joined co-host Jim Gray on SiriusXM Mad Dog Radio last night and was asked about his 2021 performance.
The greatest Bucs quarterback in history said his goal is to keep playing at "championship level" and that goal was met.
Perhaps most important to every Bucs fan is the knowledge that Brady has said previously — many times — that if his game slips he'll retire.
"The question really for me is, 'Did I play at the level my team needs me to play at in order to reach the championship?' And that's how I've evaluated my performance," Brady said.

"What is in your control is your preparation, your determination, your diligence, your leadership, all those things that go into making you a great quarterback. And my job is to play quarterback. And it's to play it at a championship level.  I definitely believe I've done that to this point and put ourselves into a position. Now I've got to do it when it really matters, which is, you know, in January and February."
Co-host Jim Gray then expressed his surprise that Brady would express satisfaction because he's always been so picky about his play and performance.
Brady acknowledged that he is, in fact, satisfied with the Bucs' regular season, liking it to a marathon runner who feels a sense of accomplishment after a long race on a tough terrain.
Joe was so pleased to hear how good Brady felt about the totality of the Bucs' season. And it was great to hear to him say how reinvigorating the playoffs are for him and how much he loves all-or-nothing games.