Today's Hall Of Fame Pitch For Rondé Barber
January 18th, 2022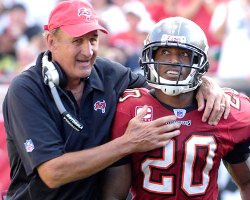 BY IRA KAUFMAN
Ira Kaufman's work is presented by Bill Currie Ford, home of the nationwide lifetime warranty on new and used vehicles. Bill Currie Ford is a family-owned Tampa tradition for 61-plus years. Ira drives a 2020 cherry red Ford Escape.
It's judgment day for Rondé Barber.
As a Pro Football Hall of Fame finalist for the second consecutive year, Barber will have his case heard during a Zoom call today as 49 selectors vote for the Class of 2022. A maximum of five modern-era nominees can be chosen from a group of 15 candidates that includes first-time eligibles DeMarcus Ware, Andre Johnson and Devin Hester.
As Tampa Bay's Hall of Fame representative, I am tasked with making the pitch for Barber, who played his entire 16-year career with the Bucs.
"Rondé happens to be one of the players I had the ultimate respect for," says Andy Reid. "He combined several characteristics that made him great. He was an extremely smart player through instincts and study habits. Rondé was also strong physically. He could tackle, he could blitz and he could cover any sized wide receiver or tight end. No doubt in my mind he deserves to be in Canton."
Reid should know because Barber broke his heart with the 92-yard interception return that shut down the Vet and sealed Tampa Bay's invitation to the 2003 Super Bowl.
Cris Collinsworth, working the Bucs-Eagles matchup that day as a TV analyst, said Barber's overall performance was among the best he'd ever seen in a big game.
Barber checks off so many Hall of Fame boxes that your pen would run out of ink. He's an All-Decade player, a 5-time All-Pro who defined the position of slot corner for the premier defense of its era.
"Rondé Barber is one of the most instinctual players I've ever seen," says Hall of Fame quarterback Kurt Warner. "He was one of those rare cornerbacks who did it all, a complete football player very worthy of a gold jacket."
Still, there are skeptics to overcome.
Barber retired after the 2012 season, so he was eligible for the Hall's Class of 2018. But for three years, he didn't garner enough support to move from the semi-finalist stage to the final group of 15.
What were these people thinking?
Barber's numbers are historic across the board. He's the only player with at least 25 sacks and 45 interceptions. Barber ranks third all-time with 197 passes defended and his 1,044 tackles are No. 10 all-time, first among defensive backs and two less than Hall of Fame linebacker Brian Urlacher.
His 88 tackles for loss are first among defensive backs, three less than Richard Seymour and 14 more than Zach Thomas, both fellow Hall of Fame finalists. Think about it — 88 tackles for loss from a cornerback.
Hall of Famer Ty Law had 19.
Selectors like to talk about impact and Barber has a lot to say in that regard. His 14 non-offensive touchdowns rank fourth all-time, trailing only Hester and Hall of Famers Deion Sanders and Rod Woodson. Those three combined for 32 touchdowns as kickoff and punt returners … Barber didn't have those additional opportunities to pad his total.
Finally, we come to durability and yes, Barber is historic there, too. In his final 15 seasons, he never missed a game. Not one.
His streak of 215 consecutive starts is topped only by Jim Marshall among defensive players. The next defensive back on the list is Willie Wood, who played in Super Bowl I.
Barber was a key component on a great defense, an outside corner who moved into the slot on third down because nobody else could do all the things required at the position.
They still can't.
Rondé Barber didn't shadow receivers all over the field because that's not the way Cover 2 worked. What he did was wreck the best-laid plans of offensive coordinators with his football intelligence and knack for the big play.
"I'd say 99 percent of the guys walking around with gold jackets needed a system," says Hall of Fame receiver Cris Carter. "Otherwise, the only busts in Canton would be Lawrence Taylor and Barry Sanders. Now we're going to penalize Rondé Barber for being in a system that he mastered? That's crazy and it's wrong."
The more you look at Barber's remarkable career, the more you appreciate the man's versatility and toughness.
Historic production, check. Historic durability, check. Jon Gruden, who coached Charles Woodson. Derrick Brooks and Jerry Rice, calls Barber the most complete football player he's come across.
What say you, football jury?