Ryan Jensen Reality
January 21st, 2022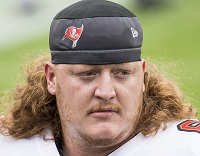 Joe has a sincere question for the legions of NFL faithful reading here.
Can anyone recall an offensive lineman spraining an ankle early in a game, playing through the injury and not missing a snap, and then not playing the following Sunday? In the playoffs?
Joe can't think of a player who fits that scenario.
That's the situation Bucs center Ryan Jensen is in today. He went down early against the Eagles on Sunday and struggled to get off the field and appeared in agony on the sidelines. But then he went right back in for the next series and finished the game in fine fashion. The Bucs were enjoying a blowout win and Jensen never left the field.
So why should Joe believe that Jensen won't play against the Rams on Sunday at The Licht House?
Yes, he has an injured ankle. But he played through it as so many linemen do.
Not only is Jensen an ultimate warrior who hasn't missed a game since 2016, he's in a contract year and surely determined to do whatever it takes to play well.
Joe's not worried about Jensen playing Sunday. And Joe found it very interesting that on SiriusXM NFL Radio on Wednesday night, Hall of Fame general manager Bill Polian said he had a conversation early in the week with Bucco Bruce Arians. And then a little later in the broadcast, Polian said he was confident Jensen would play.
Breathe, Bucs fans. Breathe.