Rondé Barber: Derrick Brooks May Have Been As Good As Lavonte David At Finding The Football And Tackling
January 18th, 2022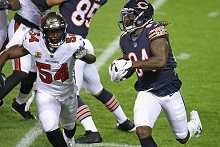 The headline is not sarcastic and you're not reading it incorrectly.
Today, iconic Bucs cornerback Rondé Barber will be voted on by a panel of Pro Football Hall of Fame selectors for enshrinement this summer. Barber is back "in the room" of 15 finalists and only five will emerge with a spot in Canton (barring some odd voting technicalities).
Ironically, yesterday Barber was making a little Hall-related news himself on the Buccaneers Radio Network.
Barber, without a shred of doubt, hype or sarcasm in his voice, essentially said linebacker Lavonte David is a better run defender than legendary Bucs linebacker was.
"His ability to scrape and find the football and then make tackles is unparalleled really [to] me," Barber said of David. " I haven't seen a guy that's able to do that like he does. Maybe Derrick Brooks. … He makes Devin White better. I notice that when I watch the film."
Whoa!
That's crazy praise for David, and especially interesting given that Barber played with both David and Brooks.
What would Brooks say about Barber's claim? That's unclear. But consider what Brooks told WDAE radio about David after his rookie season.
"I'm very surprised that he stepped up as early as he did," Brooks said of David. "And I shared with him in numerous conversations last season about how far ahead at this point in his career that he is than where I was. He was calling signals. He didn't come off the field. My rookie year I didn't call the signals. I didn't say anything, and I didn't play on third down as much. But he played every snap of defense and that was a lot put on him."
Hopefully, one day Ira Kaufman will get to use these quotes presenting David for Hall of Fame induction.