"Mental Hurdle" Huge For Eagles
January 12th, 2022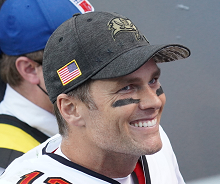 The Eagles sure have a mountain to climb on Sunday.
And one of the all-time great tight ends thinks it's more mental than anything.
Philadelphia is a young team with a first-year head coach. The Bucs are the champions led by The Goat and a handful of future Hall of Famers and players that will be remembered for decades, plus a 69-year-old celebrity head coach.
FOX analyst Greg Olsen, the retired Panthers and Bears tight end, told NBC Sports Philadelphia that the Eagles need to find the right mentality in a hurry because they're "mental hurdle" will be massive.
"'We belong here. I know they're the defending champs. I know that's Tom Brady. But none of that matters,'" Olsen said, describing what Eagles players must believe completely to be successful.

"Just knowing going in that you belong and you have a chance is like half the battle when it comes to the playoffs.  … But the playoffs so often just comes down to who handles the moment, who handles the preparation, who doesn't let it get too big. … not getting fascinated by who's on the other team, who's in the other jerseys, because very often in the playoffs that's a big factor."
Joe doesn't think Philadelphia has it in them. Olsen cited Eagles quarterback Jalen Hurts' big-game experience in college, but Olsen acknowledged that means little when it comes to the NFL.
Joe thinks the Eagles' only chance is to start fast against the Bucs. If Tom Brady jumps out to a big lead on the Eagles again like the Bucs did in October, Joe is confident Tampa Bay will not let Philly creep back in the game like they did last time.