Managing The Trauma
January 24th, 2022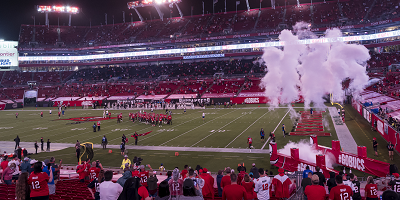 Joe worries about Bucs fans today after experiencing the ecstasy of the most stunning comeback in team history, followed seconds later by simultaneous and inhumane kicks to the groin by the Rams and Todd Bowles.
It still hurts and it will hurt for a long time.
Joe realizes lots of love and gratitude should be hurled at Jamel Dean, Antoine Winfield, Jr., and Ndamukong Suh for impressive forced fumbles that led to turnovers and gave the Bucs a prayer of victory.
Tom Brady, of course, put on quite a show in the second half when the Bucs scored 24 points to complete their comeback after trailing 27-3. Two of the biggest plays of the heroic effort even went to Scotty Miller, including a 4th-and-9 throw, so it's not like Brady was only leaning on his big guns.
There is at least a shred of good to focus on, but Joe cannot shake the horrible memories of terrible tackling, Ryan Succop's missed second-quarter field goal, and an uncovered Cooper Kupp running wild through the Bucs defense. Those images are stuck in Joe's brain, torturing visions that might send Joe to seek mental health care later today.
If Tom Brady retires, Joe sure hopes the announcement comes in at least a few weeks. Joe and legions of Bucs fans need time to heal before another trauma rains down on our heads.
Joe hopes you have a friend, perhaps a Bills fan, with which to commiserate today, or a warm partner to give you a hug.
If not, Joe will monitor the comments on this post and try to chime in with an encouraging word and a virtual hug.
We will get through this.
For those who didn't change teams, quit football or pass away during The Lost Decade, remember that we survived TV blackouts, the 2011 meltdown, the Greg Schiano regime, the Capitol Collapse, the inept coaching of the Dirk Koetter years, Jameis Winston's humiliations and the 2016 NFL Draft — and we landed atop the NFL mountain just 11 months ago.
It's going to be ok.