Jason Licht Read The Eyes
January 9th, 2022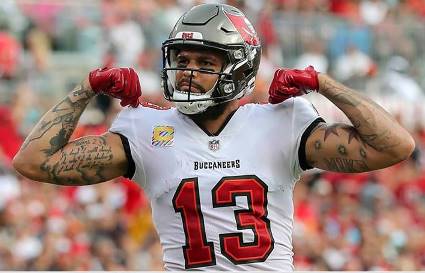 Screw the shaky hamstring. It was no factor today and it was not going to be.
Mike Evans was more than ready to bring the juice against the Panthers and get into playoff mode. Joe knew this before the game because general manager Jason Licht made it clear without hesitation.
Speaking moments before kickoff on the team's pregame radio show, Licht called Evans "a monster on the field" and Licht said he could tell that Evans was about to dominate in a big way.
"I can see it in his eyes this week that he's ready to take over," Licht said.
Joe listens to the GM every week and Licht is not one to make those kinds of bold claims, especially when it comes to an injured player or a guy who isn't 100 percent. So Joe was all fired up for Evans to have a bold day, and he delivered with two touchdowns and angry after-the-catch running that told the NFL world he is 100 percent.
Man, if Licht says something like this about Leonard "Playoff Lenny" Fournette or Bucs sacks king Shaq Barrett during his next visit to the Buccaneers Radio Network, Joe will absolutely be wildly fist-pumping in ecstasy.