Dealing With Injuries
January 23rd, 2022
Joe cannot remember too many teams that had this many injuries, specifically to its secondary, and made it to the divisional round of the playoffs. But here we are with the Bucs.
Most teams if they lost their top four cornerbacks — the Bucs were down that many due to injuries at one point in the season — would have folded up their tent and started booking January vacations to Tulum or Punta Cana.
Not the Bucs. They kept battling and battling and battling.
While the pass defense is currently ranked No. 21, when it comes to points allowed the defense as a whole is No. 5.
It may be a miracle they are that good with all the injuries. Aside from the corners, safeties Antoine Winfield and Jordan Whitehead have been dinged up at different times, so too has Jason Pierre-Paul and Shaq Barrett and Lavonte David and even for a short while Devin White and Vita Vea.
How bad was it in the secondary? This season the Bucs have used 14 different combinations of defensive backs and a total of 42 games were missed by defensive backs.
This is why it was so important that the Bucs' secondary is back to health. When the Bucs faced the Rams in Week 3, Sean Murphy-Bunting did not play and the Bucs actually held the Rams off the scoreboard until Jamel Dean got hurt and then the floodgates opened.
Might we see a better pass defense today if SMB can get on the field?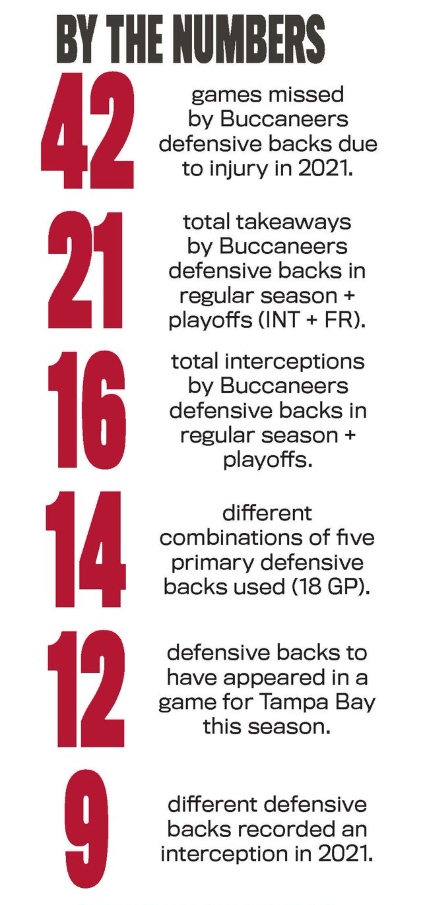 The Ira Kaufman Podcast. Dial It Up!