Bruce Arians Expands On Devin White's Struggles
January 12th, 2022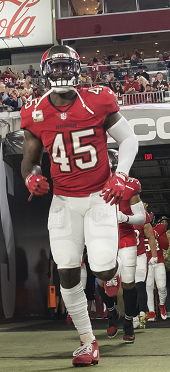 Those watching games have seen savior Bucs linebacker Devin White regress this season. The numbers don't lie and neither does the film.
Are the hip and quad injuries to blame? Bucco Bruce Arians insists White is healthy.
Is Lavonte David missing five games a major factor? Maybe.
Was Todd Bowles adjusting White's role because of injuries to defensive backs an issue? Perhaps.
Was White distracted by buying a new house and moving in December? Could be.
Arians was asked to explain White's recent shortcomings on the Buccaneers Radio Network yesterday.
"Just trying to make plays that aren't there," Arians said. "Just rushing the passer sometimes and doing things that he don't normally do. Just overall, he can play better. We've seen him play better and I know he will."

"Devin, I think is trying to do too much in Lavonte's absence."
The "rushing the passer" quote from Arians sure raised Joe's eyebrow. Feel free to speculate there.
Regardless, Joe just hopes White can flip a switch and recapture his playoff glory from last season. If not, that's ok. Joe believes the Bucs can survive if White can just play a little better, and his first forced fumble or interception of the season would be a nice bonus.