Tom Brady Weighs In On Chris Godwin Loss, Injury
December 20th, 2021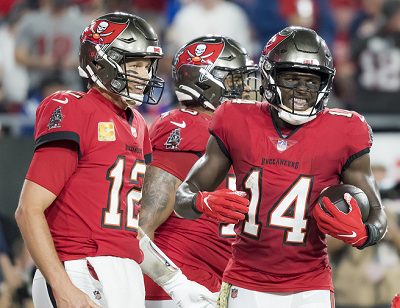 The ugly loss of Pro Bowl receiver Chris Godwin to a torn ACL yesterday is certainly on the mind of his quarterback.
Tom Brady had plenty to say about it on SiriusXM Mad Dog Radio this evening.
Brady shared his great appreciation of Godwin and how the loss is more than missing a great target.
"In Chris's case, I think what he's gone through and how he's risen from kind of a mid-level draft pick to one of the great receivers in the NFL has been unbelievable to watch," Brady began. "And just being with him for the last two years, he works so hard. He puts so much into it. He is a great team player, a consummate professional. Everyone hates to see him go down. So there's an emotional aspect to that, too, that we all got to deal with, knowing that one of our most dedicated guys isn't going to be on the field with us for the rest of the year, which is tough."
Brady went on to talk about how he's confident Godwin will come back strong eventually "because that's the kind guy he is."
"Tough for everyone to swallow such a tough injury," Brady added.
Getting blasted low struck a nerve with The Goat and he said he'll be advocating for a rule change.
"Chris got hit, you know, in the knees yesterday, which I think is a play I think they ought to take out of the game of football from a receiver standpoint," Brady said. "I kind of talked to the [players union] about it for a while, and I'd like to speak to the rules competition committee this offseason. I've seen that hit too many times where a defenseless pass catcher is in the process of catching a ball and he's hit by a defender."
Brady claimed no player can be hit in the knees any longer except receivers, and he thinks it's time to take that out of the game.
He said an ACL injury is "a lifelong injury" and a shot to the head is far more preferable than a hit to the knees.