Tom Brady Mentions "Mike & Chris & Gronk & Leonard" As Teammates He's Closely Bonded To
December 19th, 2021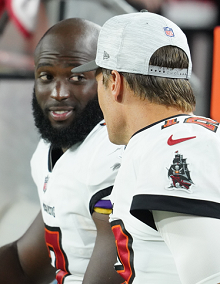 For those with a Buccaneers free agency big board in their living room (Joe's with you!), pay attention.
Tom Brady sat down with Casey Phillips of Buccaneers.com recently for a 14-minute chat on all things Bucs and Brady.
Plenty of clichés were flowing but Brady did name some names when he was talking about the deep personal bonds he has with teammates, the kind he'll cherish long after his football life ends.
Of course, Brady referenced Rob Gronkowski, but he spoke of a specific foursome as well, "Mike and Chris and Gronk and Leonard."
Over the years, Joe has learned that names matter when players and team authorities are talking. So Joe was a little intrigued by the foursome Brady chose.
That doesn't mean, for example, that Brady doesn't care about Ryan Jensen, Lavonte David or Antonio Brown, but the names that came first and flowed smoothly were the four above.
Chris Godwin and Leonard "Lombardi Lenny" Fournette are free agents after this season. Anyone really think the Bucs will let them walk?
Joe doesn't. And it's going to be damn interesting seeing how the Bucs handle offers to Fournette. Remember, Bucco Bruce Arians has shared very strong opinions about paying running backs big contracts.