"The Godwin Problem"
December 18th, 2021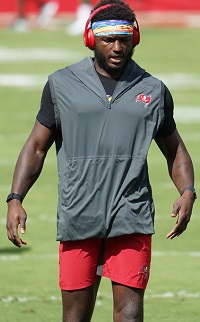 Yes, Chris Godwin is healthy. Breathe easy.
Joe is not chasing a ghost here.
Godwin, however, will be chasing his 100th reception of the season tomorrow night against New Orleans (he's got 92) and another huge game against the Bucs' biggest rival.
The Saints may own the Bucs in the regular season, but they haven't had a lot of luck containing the Bucs' beastly No. 1A receiver.
That reality wasn't lost on The Times-Picayune beat writer Luke Johnson, who reminded Saints fans of three realities entering the Sunday night clash that will either lock up the NFC South crown for the Bucs or breathe new life into a 6-7 Saints team.
2: The Godwin Problem

While we're talking about recent Saints-Bucs history, we might as well ask: Have the Saints figured out a different plan for defending Tampa receiver Chris Godwin? Because whatever they tried to do last time certainly didn't work when Godwin went off for 140 yards and a touchdown on eight catches in Week 8. Much of Godwin's damage came out of the slot with C.J. Gardner-Johnson trailing in coverage. It was Godwin's third career 100-yard receiving game against the Saints, and he's made a fan out of Saints coach Sean Payton: "He is one of their go-to guys. He is a tremendous blocker. … He does everything you ask of a receiver. He's physical. He's smart. He's an important piece to what they do offensively." Godwin enters this week ranked No. 2 in the NFL in receptions (92) and No. 4 in receiving yards (1,054).
Keep an eye on Gardner-Johnson covering Godwin again. He missed practice time this week with a bad toe.
Godwin also is marching toward a massive free agency payday, and Joe is convinced Godwin has Bucs management by the footballs.
There is no way the brass can look Tom Brady in the face and tell him they didn't pay his No. 1 target, so Godwin has all the leverage if he stays healthy.