Star Down In Buffalo
December 9th, 2021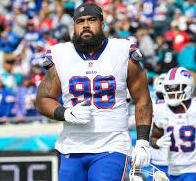 The not-so-mighty Bills have a weak pass rush and now one of their big front men is ailing.
Starting defensive tackle Star Lotulelei, whose two sacks are two behind the team lead, did not practice today because of a toe injury.
Lotulelei, 32, used to be a bit of an ironman, but issues after a COVID case lingered this season following a September groin injury, and now he's got the bad toe.
Joe's not rooting for injuries, but Joe will take whatever breaks come the Bucs' way.
Joe can't figure out exactly how the Bills, already down their Pro Bowl cornerback, are going to stop the Tom Brady passing machine. Heck, Joe doesn't know how any team will shut it down when the Bucs are healthy like they are now.