Mike Edwards' Speed And Distance Revealed
December 1st, 2021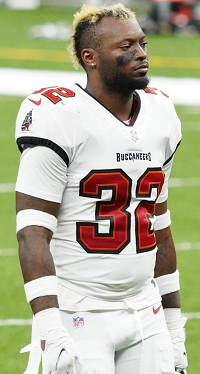 Joe wrote about how Bucco Bruce Arians thought safety Mike Edwards was clocked running his fastest (by way of NextGen Stats) when he likely saved the game on Sunday by chasing down Colts kick returner Isiah Rodgers at the Bucs-32.
Edwards was able to make an arm tackle to shove Rodgers out of bounds with 10 seconds left.
That was likely the fastest Edwards had run in his life, Arians said, and he wasn't far off.
Scott Smith of Buccaneers.com got the data from NextGen Stats about Edwards. Let's just say Edwards was moving.
Rodgers reaches a top speed on his return of 21.27 miles per hour right as he's crossing the midfield stripe. At this point, Edwards is at the Bucs' 45 and angling towards the sideline, and he has accelerated to 20.07 miles per hour. That was the first time all season that Edwards had reached a max speed of at least 20 miles per hour. He will top out on this play at 20.23 mph.
From where Edwards started on the kickoff team and the ground he covered and made up to tackle Rodgers, NextGen Stats, per Smith, had Edwards running 100.8 yards on the play.
And remember, Edwards did this with seconds left in the game. He had played a full game when he raced 100 yards at top speed to save the Bucs.
Just to give you an idea how fast that is, Usain Bolt, in his world record 100-meter dash, ran at 29.5 mph.
---
Enjoy the latest Ira Kaufman Podcast

---
Buccaneers legend Derrick Brooks dives into Tampa Bay's wild win on TAMPA TWO with JoeBucsFan.com columnist Ira Kaufman.