"It's Definitely Been A Great Year For Myself"
December 16th, 2021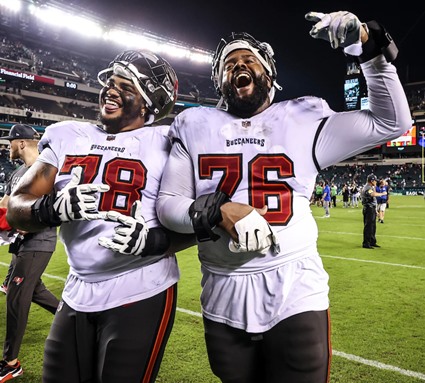 One of the most underrated quotes of this Bucs season came from right tackle Tristan Wirfs.
It was last month when Wirfs explained that left tackle Donovan Smith does things on the field that Wirfs would never attempt. The message was that Smith's mad skills and experience are something Wirfs strives to attain.
And that's damn special considering Wirfs was arguably the best right tackle in the game in 2020.
Smith, 28, is in his prime and loving life. He's got a massive contract, job security and he's playing strong ball week after week.
Yesterday, Smith sounded like a guy who believes he should be considered one of the greats in the game.
"Probably," Smith replied when asked if this his his best NFL season. "I guess you guys would say so as well. It's definitely been a great year from myself. … It's just something that, you know, I've been working towards my whole career. Just go out there and be the best left tackle there is and do it consistently. So it's just what I go out there and do each Sunday."
Joe roots for Smith for many reasons, but one big one is because the better Smith plays, the longer Tom Brady is likely to stick around. Joe is convinced the quickest thing to launch Brady's post-football career will be a shaky offensive line or a nagging wife.