"I Wouldn't Make That Throw"
December 14th, 2021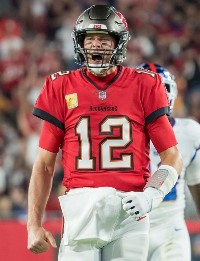 It's not often that big-ego quarterbacks drool over the play of other QBs. But that's what happened yesterday.
Four-time Pro Bowler Rich Gannon, the 2002 MVP, was gushing over Tom Brady's second-quarter touchdown throw to Mike Evans against the Bills.
"Most quarterbacks wouldn't dare, wouldn't dare make that throw in that part of the field. I know I wouldn't, you know, and I was the league MVP," Gannon barked on SiriusXM NFL Radio.

"I wouldn't make that throw. It's insane. He throws it about the only place you could to a 6-5 receiver that's got great leaping ability. I watched it, and I don't say this very often. You know, you watch a throw you go, 'Oh, my. My gosh was that a good throw.' You know I don't say that a lot. "
Gannon went on to say the coverage was flawless on the play and it was a true "Oh wow" moment Gannon usually reserves for Aaron Rodgers and Patrick Mahomes. But Sunday it was Brady — at 44.
Joe has raved mostly about the catch, but there is no denying Brady threw a 30-yard laser with a guy in his face to a receiver that wasn't really open.
Enjoy another look below.
To recap: @MikeEvans13_ is really good at football.

📺: #BUFvsTB on CBS
🗳: 1 RT = 1 #ProBowlVote pic.twitter.com/DtPJN8jSQq

— Tampa Bay Buccaneers (@Buccaneers) December 12, 2021