Ex-Buc: Tampa Bay Is "Probably 2 To 3 Times Better" With Antonio Brown
December 10th, 2021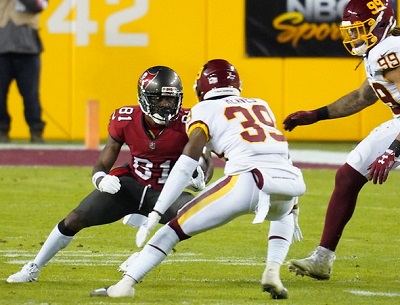 Opinionated former Bucs blocking icon receiver Michael Clayton (2004-2010 preseason), is always good for a firm and well-considered take — not counting when he screamed for the Bucs to sign a female kicker to replace Chandler Catanzaro midway through the 2018 season.
This week on WDAE radio, Clayton was barking about how the Bucs "are probably 2 to 3 times better" when Antonio Brown is on the field.
And Clayton thinks Brown's value may be enhanced now that "Chris Godwin has earned over-the-top coverage" and Rob Gronkowski is back. Simply stated, "it's impossible to cover our receivers," Clayton said of the Bucs' offense when Brown is available.
"He runs great routes. He knows how to be quarterback-friendly," Clayton.
Perhaps most interesting was Clayton explaining how Tom Brady coached up Bucs receivers on how to protect the throw from being picked off and Jameis Winston didn't know how to do that.