Devotion Highlighted
December 10th, 2021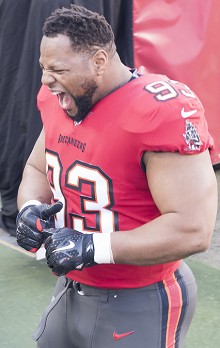 What do you do on your day off?
Joe suspects few fans drive to their office, school, restaurant or dealership and start working on their craft for no extra pay.
However, beastly defensive tackle Ndamukong Suh is one of those kinds of guys as he approaches his 35th birthday next month and his 197th NFL game on Sunday (including playoffs).
Suh has endured a tremendous amount of wear and tear in the trenches. Warren Sapp, for example, played 207 games. Legendary Vince Wilfork played in 213.
Still, Suh is driven to greatness. Joe had to rewind the audio yesterday when Bucs defensive coordinator Todd Bowles talked about Suh coming to One Buc Palace to run sprints on his days off.
Joe suspects Suh, who has earned more than $110 million in his NFL career, lives in a home that has a place for him to run sprints. He certainly can afford top training equipment, or head to one of the fancy training gyms in Tampa. No, Suh goes to One Buc Palace, gets past security, gets through the parking lot and swipes his key card so he can run gassers on his day off with Bucs staff looking at him through their office windows.
Stunning.
Hearing this reminded Joe of covering a Bucs road game and staying at the team hotel years ago.
Joe hit the hotel gym on the morning of the game and the late Vincent Jackson was there running pretty hard on a treadmill and using other equipment not even four hours before kickoff.