Devin White Explains Why Saints Beat The Bucs
December 21st, 2021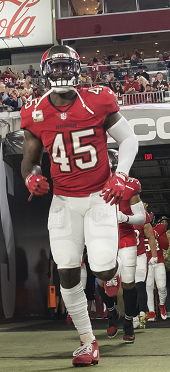 Why? Why? Why?
Why have the slimy Saints clubbed the Bucs in seven consecutive regular season games?
That's an impossible question for Bucs savior linebacker Devin White, since he was in college when the Bucs last beat the Saints in regular-season play. That was when Ryan Fitzpatrick went wild (4 TD passes, 417 yards, a rushing touchdown and 12 carries) on opening day of the 2018 season.
But White arrived the following year and has seen enough to have an opinion, one he shared on the Buccaneers Radio Network yesterday.
"I feel like they pin their ears back and they get after us pretty good," White said. "And I think, you know, as far as the [Bucs] defense, that's the type of effort we want to bring to the game as well. We try to bring our own intensity and not match it, you know, make their offense match us. And I think it gotta be that way on both sides of the ball. They do a great job in scheming and knowing what we're not comfortable with as a team. And they try to exploit those opportunities."
It sounds like White finds the Saints to be better coached and a little hungrier on most days against Tampa Bay.
As for what Bucco Bruce Arians told players after the loss, White said the message was very simple.
"You gotta eat it. You gotta eat it," White said, quoting Arians. "You know, if you dwell on it, it can be a domino effect."