Bruce Arians: I Anticipate Antonio Brown Will Be 100 Percent Healthy
December 9th, 2021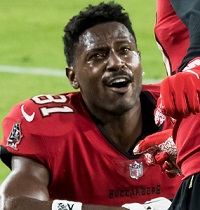 This Christmas, some Bucs fans likely will think they got a lump of coal in their stocking.
Others should be high-fiving and pounding Big Storm beers in celebration.
It all depends on your perspective on phony-V-card-flashing, furniture-hurling, bicycle-throwing receiver Antonio Brown.
Brown has a bone spur that somehow was/is affecting his healing sprained ankle. Brown hasn't played since he had a big Thursday night in Philadelphia on Oct. 14. And last week he was suspended three games by the NFL, along with Bucs safety Mike Edwards, for producing a phony COVID vaccination card to the Bucs over the summer.
Brown's ankle rehab has been a bit mysterious, but Bucco Bruce Arians was rather firm last night talking about Brown's health on SiriusXM NFL Radio.
Here is the verbatim exchange:
Host Bill Lekas: Antonio Brown, when the suspension is over, do you expect him healthwise to be 100 percent by that point?

Bucco Bruce Arians: I would anticipate that. Yes.
So it seems Brown very well could be full-go on Dec. 26, when the Bucs head to face Carolina in Week 15. That's perfect timing for Brown to tune-up for the playoffs.
Do the Bucs need him to win a Super Bowl? That's very much up for debate.
Brown missed the NFC Championship game with an injury last year, and he caught a grand total of 8 balls for 91 yards and 2 touchdowns in the other three playoff games. Joe's not discounting the guy's importance, but Joe doesn't want to overstate it, either.