Bills At Bucs, TV Map
December 11th, 2021
Will you see the Bucs host Buffalo tomorrow on your local CBS affiliate? Click below. Joe is here to help.

The Bucs, being one of the newer nationally-popular teams, will damn near be shown hosting the Bills tomorrow all over the nation. The only places where Bucs fans won't get the game on free TV will be on the left coast or Ohio and the surrounding coal country. Yes, that means even Joe's friends in Alaska and Hawaii will get to watch the Bills-Bucs games via their local CBS affiliate.
If you live on the left coast or Ohio, you will have to rely on NFL Sunday Ticket or head to your favorite watering hole.
Of course, locally, Bucs fans can head to Big Storm Brewery in Clearwater, Odessa, Cape Coral or downtown Orlando at the Amway Center to watch the game. Naturally, visiting your neighborhood Hooters is always a wise move. Bonus: Select Hooters in Florida carry Big Storm beer on tap!
(Streaming information and options will be included in the "Gameday Tampa Bay" post scheduled to publish on this here website at midnight.)
As always, TV coverage maps are courtesy of 506sports.com.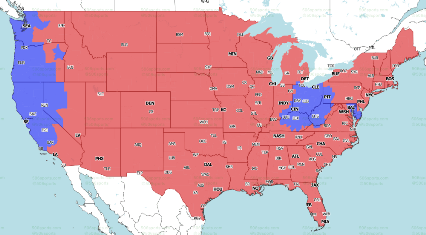 Red: Buffalo at Tampa Bay
Blue: San Francisco at Cincinnati