"We Want To Keep It Up There Around 30 Plays A Game"
November 23rd, 2021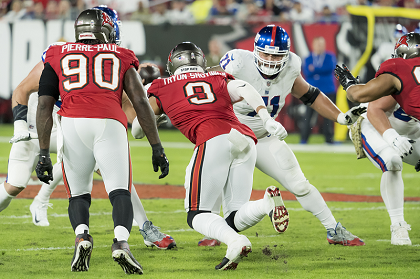 It seems Bucco Bruce Arians has joined the #FreeJoeTryon movement.
No argument from Joe, especially with Jason Pierre-Paul looking washed out as he tries to perform with broken fingers and a torn rotator cuff.
Last night, Tryon-Shoyinka got snaps as an inside rusher (see Joe's photo above) in addition to his versatile play at outside linebacker. The rookie was having fun with his new experience on Twitter and Bucco Bruce Arians was all smiles about it on the Buccaneers Radio Network this evening.
In the five games after JPP's return from injury against Miami, Tryon-Shoyinka averaged 20 snaps per game. Last night, he was at 29 snaps, and Arians said that's just about the goal.
"We want to keep it up there around 30 plays a game," Arians said, referring to the rookie's weekly snaps.
In previously, weeks Arians referred to Tryon-Shoyinka as being capable of playing safety and many other positions. That showed last night with his inside work.
"He's a bright, bright player," Arians said today.
Joe is convinced the Bucs are going to need a more mature Tryon-Shoyinka to make a key play or two in the playoffs. The best way to get him ready for those moments is to put him on the field now.