"This Shi*s Gonna End With One Of Us Doing It."
November 29th, 2021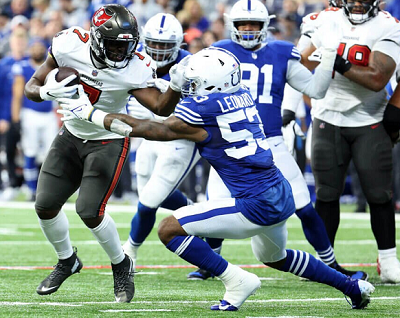 Lombardi Lenny, Playoff Lenny and soon-to-be Offensive Player Of The Week Lenny (they're all the same person) was on the phone after the Bucs' knockout punch to the Colts yesterday.
Who was he talking to? It was NBC super insider Peter King, whose Monday column carved out a section devoted to Leonard Fournette's four-touchdown performance.
After the game, there was chatter among Bucs players that Lombardi Lenny had a lot to say to everyone at halftime, when the Bucs trailed by 10 points and had just taken a knee with two timeouts in their pocket and 18 seconds on the clock.
'This game will end with either me or you winning it. This sh*ts gonna end with one of us doing it,'" was Lombardi Lenny's halftime message to Tom Brady, per King.
Did the big talk make a difference? Joe has no clue. But Joe is growing more and more impressed each week with Lombardi Lenny in the passing game. He appears to be more in sync with Brady, despite the occasional drop. And the Bucs phasing out Giovani Bernard and using Fournette more as a workhorse makes them more unpredictable, Joe believes.
Fournette is now on pace to catch 78 balls this season. That would rank second-highest in the history of Bucs football behind James Wilder's ridiculous 1984 season. Michael Pittman was the last Bucs running back to rack up a big number of catches, 75 in 2003, as Brad Johnson checked down to him repeatedly.