The Overlooked Edge
November 9th, 2021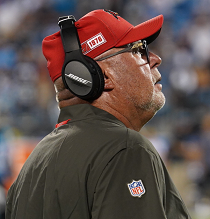 Joe has noticed a faction of fans getting confused by the Bucs' potential path to Super Bowl glory.
Rarely noted, and Joe is guilty of omitting this in posts and assuming it's obvious, is the fact the Rams (7-2) and Cardinals (8-1) play in the same division.
So what if the Bucs (6-2) lose a head-to-head tiebreaker with the Rams if the Rams come in second place in the NFC West. Once a team qualifies as a Wild Card, it realistically can never get a home playoff game without a flood of upsets.
Joe just wants everyone to be clear that there is no re-seeding in the playoffs.
If the Bucs win the NFC South with a good enough record to grab the No. 2 overall seed, they'll be guaranteed a chance at two playoff home games even if both the Rams and Cardinals have more regular-season victories.