The Morning After
November 1st, 2021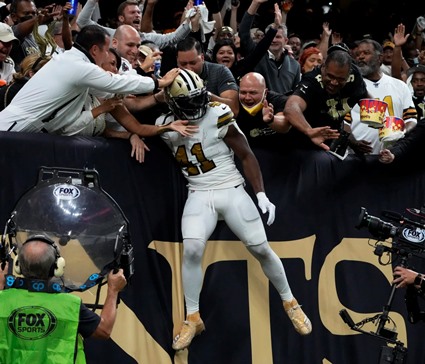 Better we eat this bitter pill right away than let it linger. Hope you have your mug filled.
The Real Culprit
Forget Tom Brady's pick-six. Forget the dumb defensive penalties too many to count or remember. This ugly Bucs loss boils down to one simple thing.
Bucs defensive coordinator Todd Bowles got caught with his pants down. That's all there is to it.
For a fourth-string wannabe who hasn't thrown an NFL pass since September 2019 to come in cold as ice off the bench and march up and down the field with time-eating scoring drives is absolutely unacceptable to a championship roster.
Bucs Super Bowl-winning coach Bucco Bruce Arians wasn't going to unload on his dear friend and defensive coordinator Todd Bowles, who for the most part this year has coached his arse off.
But Sunday, Bowles was fully blindsided. How a two-bit quarterback (worse than that rotten Wing-T quarterback Taysom Hill) can turn in a dominant performance against a Super Bowl champion is beyond words for Joe.
What we saw yesterday was the kind of slop we grew used to during The Lost Decade from the likes of a-hole Bill Sheridan, lousy Lovie Smith and Mike Smith. Joe thought we were past this kind of nonsense.
The Bucs have one of the best front-sevens in the game. And still when they needed a turnover or a game-changing play, they couldn't get one. Against Trevor friggin' Siemian? You cannot be serious?
Joe could understand if Siemian practiced with the slimy Saints first-team offense all week. He came off the bench cold as any hot babe Joe tries to work on and it was as if Joe Theismann himself was coming into the game.
Joe doesn't know how the Bucs made him look like a 10-year starting veteran. That was why they lost. And Bowles ought to show his defense film of that game every friggin' day in practice so his defenders never forget.
This is the same defense that shut down Drew Brees, Aaron Rodgers and Pat Mahomes in three straight games last winter? It's almost like the Bucs defenders had their heads back home wanting to celebrate Halloween with their children and pocket all of their chocolate.
Only this time, the slimy Saints were the real ghouls and stole their candy.
Gutless
Late in the game, it took the Bucs five plays to go 75 yards to take a 27-26 lead with just under six minutes left when the immortal Cyril Grayson burned the slimy Saints on a 50-yard bomb from Brady.
And the defense needed to just stop a stiff of a fourth-string quarterback once and the game is likely over. Once! One stop! Just one!
Instead, the pride of the NFL quarterback factory known as Northwestern assembled a 12-play, four-minute field goal drive to regain the lead 29-27.
(When is the last time Northwestern produced a quarterback, Otto Graham?)
Couldn't force a fumble. Couldn't get a pick. Couldn't squeeze the slimy Saints to punt in order to win the game.
The only word Joe can come up with is "gutless."
#Sad
Blitzing Was Fully Useless
The blitz package Bowles crafted was thoroughly useless. Either Sean Payton has Bowles' blitz packages figured out or the Bucs defense is tipping pitches, or Bowles needs to hop back on his Surface tablet and figure out better disguises.
Or have defensive line coach Kacy Rodgers work with the linebackers and defensive backs on learning to shed blocks.
The Bucs, per NextGen Stats, tried 22 blitzes yesterday. Not one resulted in a quarterback pressure. ZEE-Row. Nada. None.
Joe will detail later this morning how awful that is.
When you blitz, someone and maybe several defenders are out on an island guarding guys one-on-one. So if your blitz is never getting to the quarterback, that means someone covering receivers is likely getting hung out to dry.
And as Joe has detailed, dudes are out on the field that normally would not be if the Bucs were healthy at cornerback.
New No. 1 Corner?
On his podcast, Richard Sherman has mentioned what he believes is the high-level play of Bucs cornerback Jamel Dean. The fourth-year Bucs corner, in the final year of his contract, may finally be rounding into form.
Dean was picked on by Dak Prescott and the Cowboys in the season opener. Since, when healthy, Dean has played pretty well.
Now Joe doesn't yet have the advanced stats from yesterday's game, but entering Sunday, one could argue Dean was among the better corners in the NFL. Yeah, no lie.
For the season prior to yesterday, opposing quarterbacks had a woeful completion percentage of 39.9 and zero touchdowns when targeting Dean.
That's pretty damn impressive. So one can understand why maybe Bucs AC/DC-loving general manager Jason Licht has been sort of averse to trading for a corner, thinking if he could just keep Dee Delaney or Richard Sherman healthy along with Dean, the Bucs might survive until after the bye.
No, Joe has no update on when Carlton Davis and/or Sean Murphy-Bunting will return. But Joe did see that SMB was working out on a side field at Bucs practice last week. So that's a good sign.
.@Buccaneers CB Jamel Dean has been targeted 28 times this season.

He has allowed just 11 completions (39.3 comp%).

0 touchdowns allowed.

Opposing QBs have a combined 21.7 passer rating when targeting him (lowest in NFL). pic.twitter.com/XzydL70dbL

— NFL on CBS 🏈 (@NFLonCBS) October 29, 2021
Tom Brady Among League's Best
After yesterday, our Bucs quarterback, Tom Brady, is the NFL's leading passer. Brady is pacing the NFL with 2,650 yards and 25 touchdowns. His next-closest competitor is Matt Stafford who has 2,477 and 22 touchdown passes.
Also, there is this cool piece of Brady intel from the Bucs media relations crew: Brady's 2,650 passing yards and 25 passing touchdowns are the most by a quarterback through eight games in Bucs history. Brady's 25 touchdowns are the fifth-most through eight games in NFL history, while his 2,650 passing yards are the 10th-most in league history through eight games.
And the dude is 44.