Rondé Barber Says Jonathan Taylor Film Is Jaw-Dropping
November 26th, 2021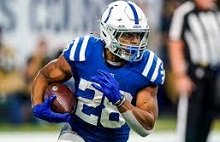 Bucs icon Rondé Barber watches a ton of Tampa Bay game film, in part because he has a gig breaking it down for the team website, and in part because he's been doing it for fun and for his broadcasting duties since retiring after the 2012 season.
Regular readers here also know Barber is a trusted consultant for the Bucs' front office. It's common for team brass to ask Barber for an evaluation of a prospect.
No, that doesn't mean he's the de facto general manager. Don't get carried away.
Barber also is a man with a strong interest in gambling. He is featured on the Betting With The Barbers podcast, and Joe is a regular listener.
On this week's episode, Barber's game/pick of the weekend is the Bucs taking care of business as a three-point favorite on Sunday in Indianapolis. And Barber says the game will only be close because of one man, NFL rushing leader Jonathan Taylor of the Colts.
"This is going to be one heck of a game based solely because of Jonathan Taylor. When I watch the film of him, the quality of his runs, not just that he's getting a lot of volume, but the quality of those runs. The way he's stiff-arming people and making people miss, or just flat out running through them, your jaw drops," Barber said. "He's averaging 5.8 yards per carry. So what does that allow you to do? It allows you to own the game and time of possession. … The best way to handle the Bucs is to control time of possession."
Barber, however, is confident the Bucs' consistent and typically dominant run defense will contain Taylor just enough to force Carson Wentz into pressure situations and more total throws than he's comfortable with to give the Bucs an edge to complement their efficient offense.
Joe hopes Barber is correct. But damn, that Colts running game is impressive and fearless behind a very physical offensive line. How effective Devin White will be with a quad issue (if he plays at all) will be such a massive X-factor.