Not A Lot Of Vita Vea With The Game On The Line
November 16th, 2021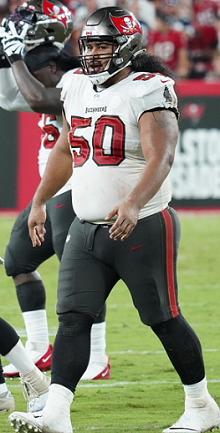 So exactly what went wrong on Washington's 19-play drive to end the game and crush the Bucs on Sunday?
Joe's not sure, but Joe can say that Vita Vea only played 10 of those snaps.
Some believe Vea is among the greatest interior defensive lineman in the game. It's hard for Joe to go there because Vea doesn't play that much compared to many of his peers.
Against Washington, Vea was watching from the sidelines on 2nd-and-goal and 3rd-and-goal on Washington's final drive. He jumped in on 4th-and-goal and that's when he injured his knee.
The big 3rd-and-4 play earlier on that drive? Vea was a spectator.
Overall, that drive was nothing unique for Vea, who played 53 percent of the snaps (39 total) against Washington. That's a very typical game for him, though Vea did play 61 snaps against the Saints on Halloween.
Joe's hands are thrown in the air in frustration. There's obviously a reason Vea's snaps are limited, but that doesn't cut the angst.
"I thought Vita played good," Bucco Bruce Arians said on WDAE radio today.
"Our front seven just didn't play gap-control defense like we're supposed to."
For perspective on snaps, Washington defensive tackle Daron Payne, a 6-3, 325-pound best drafted just after Vea in Round 1 of the 2018 NFL Draft, has played more than 75 percent of his team's snaps since he entered the league.
Enjoy today's Ira Kaufman Podcast