Joe Judge Talks Tom Brady
November 18th, 2021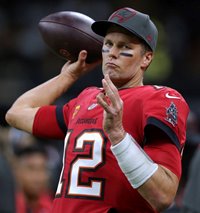 Younger than Tom Brady and younger the Bucco Bruce Arians' son, Giants head coach Joe Judge is unique in his field.
In addition to being just 39 years old, Judge was hired directly from his background in special teams, which is extreme rare in NFL history. He coached special teams for the Belicheats, which had hired him out of the University of Alabama where he held the same role.
Judge hopped on WFAN radio in New York this week and recalled his first impressions of Tom Brady at spring practice in New England back in 2012. Judge said Brady's practice efficiency was a sight to see, along with him "jumping on everyone" during the session.
Judge went on to talk about Brady's exceptional preparation of his body for practice, as well as the recovery routine Brady goes through after practice. What fans don't see, Judge said, is Brady's ability to succeed where others can't physically.
"The other thing a lot of people don't know is how many injuries this guy plays through," Judge said. "This guy's a tough dude. I mean he's really, really a tough dude. This guy plays through a lot of things. You know, and the team just knows like you can always count on him being out there."
As for Monday night's Bucs-Giants matchup, Judge said he has advised his team they should expect Brady's very best and the Super Bowl-caliber Buccaneers that haven't been seen for a few weeks.