History On The Line Sunday In Indianapolis
November 25th, 2021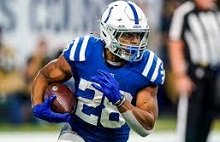 Lots of people say Colts running back Jonathan Taylor is the best running back in the NFL. And he has one incredible NFL record to back it up.
Taylor has 100 or more yards from scrimmage and a rushing touchdown in eight consecutive games. That ties the longest streak in NFL history.
Joe would have thought one of the legendary running backs would have had more, but that's just not the case. Taylor can set a new record on Sunday against the Bucs.
And that brings Joe to the Tampa Bay run defense, which legitimately was the among the very best in history through the 2019 and 2020 seasons. Seriously, research the data. The Bucs run defense was the best of the modern era, leading the NFL in every major run defense category through those two seasons.
This year the run defense has shown cracks but it's still outstanding, allowing the second-fewest yards per carry at 3.8, up from 3.6 last year. New Orleans currently leads the league at 3.4 yards allowed per carry.
So Sunday will be a true clash of greatness, perhaps the hottest running back in history against an historic run defense.
Joe is unsure of how it will play out, though Joe has visions of Jordan Whitehead hammering a fumble out of Taylor.