Devin White Has A "Circumstance"
November 29th, 2021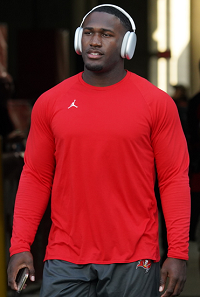 This reminds Joe of a college kid Tweeting "I can get through this."
You don't know if he or she got a wrong order at a Chik-fil-A or was just dumped by a true love.
And that's the point, usually, to be mysterious.
So with that in mind, Devin White took to Twitter this morning after leaving yesterday's game early following a reaggravation (apparently) of his quad injury. He returned in the game but certainly was not himself. Joe watched White on the sidelines and he seemed to be taking his cheerleader role seriously while also trying to stay loose before he returned for some second-half snaps.
Below is White's Monday morning Tweet.
Did White get bad football news, like he won't heal fully until after the season? Or did one of his horses come down with diarrhea? Or perhaps he was counting on Christian McCaffrey for the fantasy football playoffs?
Joe doesn't know. And it seems White isn't ready to share.
This circumstance will show me exactly what I'm made out of..

— DEVIN WHITE (@DevinWhite__40) November 29, 2021