COVID Loss Could Impact Race For No. 1 Seed
November 3rd, 2021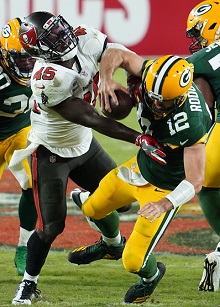 There's no doubt some people will read this and think Joe is celebrating the announcement that Aaron Rodgers tested positive for COVID and will not play Sunday at Kansas City.
No, Joe is not wishing The Sickness on the Packers or their quarterback, Tom Brady's golfing buddy. But the result is the Packers (7-1) are now heading to Arrowhead Stadium on Sunday with backup QB Jordan Love scheduled to make his first career start.
Joe watched Love in preseason and he looked pretty good, but there's no reason to think he can step in for Rodgers without the Packers suffering significantly — especially in arguably the NFL's most hostile environment.
If the Packers fall to 7-2 on Sunday, they'll still have games against the Rams and Browns at home, and at the Ravens.
The 7-1 Rams still must play the 7-1 Cardinals in Arizona, and on the road at Green Bay, Baltimore and San Francisco.
The Cowboys (6-1), who lost to the Bucs (6-2) on opening day, still have road games against the Saints and Chiefs, and home matchups versus the Raiders and Cardinals.