Buccaneers 38, Colts 31
November 28th, 2021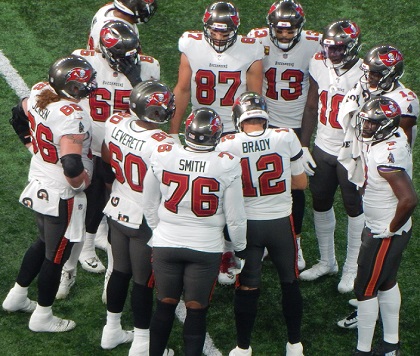 What a heroic freakin' comeback win against a sizzling hot team in a sold out, loud-as-hell dome.
It was a "W" that champions are made of. Wow!
The Bucs survived three key in-game injuries to march their record to 8-3
Ya Gotta Believe!
Consider Joe 100 percent sold.
One of the sloppiest first quarters in recent memory, capped off by the Bucs taking a knee with two timeouts in their pocket at the 25 yard line with 18 seconds remaining on the second-quarter clock, and it was hard to believe the Bucs had a ferocious comeback in their blood.
But they did. Shaq Barrett notched the "triple," a sack/strip/fumble recovery on the same play to spark the team. And Antoine Winfield, Jr. later delivered with one of the great adjustments on a deep ball you'll ever see from a safety. His interceptions — and Shaq's beasting — was just what Tom Brady and the rugged Bucs running game needed to march down the field.
But in reality, the Bucs offense started its comeback late in the second quarter, with an eight-play, 84-yard drive to pull the Bucs to within 17-14.
What can Joe say about Leonard Fournette. The Bucs are now 12-0 when he has 12 or more carries. Fournette was a punishing presence today with 17 carries for 100 yards and THREE touchdowns, plus seven catches for 31 yards and a receiving TD.
Take a bow, Nick Leverett, coming in cold at left guard after Aaron Stinnie went down. He struggled a bit with the noise, but his overall game was strong for a guy seeing his first real action.
And give Mike Edwards a gold star for a game-saving tackle with 10 seconds left.
Damn, Joe is fired up. What a "W."