Bruce Arians Weighs In On Jameis Winston
November 3rd, 2021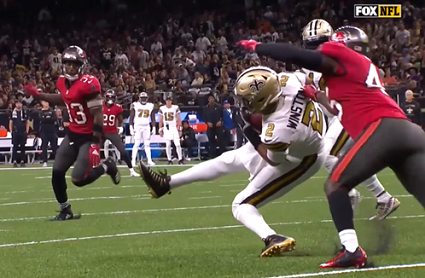 Sunday may have marked the end of Jameis Winston's career.
America's Quarterback blew his knee out (ACL & MCL) against the Bucs and he's not under contract with the Saints for 2022.
Sure, at 28 years old next season, the Bucs' 2015 No. 1 overall pick could get a minimum salary from somebody seeking a talented backup that might be available come September. But that's a very tough sell unless it's Sean Payton buying cheap insurance.
Bucco Bruce Arians knows what an ACL injury means to his former QB, and he reflected on the sad result of Devin White's illegal horse-collar tackle.
"Yeah, I felt terrible," Arians told Bucs Total Access streaming on the official team website.

"Nobody works any harder than Jameis. And I know how much it meant to him. And he was having a heck of a game. You know, people don't' realize how good of a runner he is. He's always been great [running] when we had him. He was playing outstanding. He was protecting the ball. He was making a lot of plays with his legs. And it's just so unfortunate that happened to him."
For those who missed it, Jameis was scrambling and the photo above shows White pulling him down in hot pursuit. Arians said the personal foul on White was the right call.
Joe hates when any player gets injured, but Jameis going down probably costs the slimy Saints (5-2) at least a win in the 10 games remaining on their schedule. So that's one positive out of a bad situation.