Bruce Arians: Mike Evans "Owned" Marshon Lattimore
November 2nd, 2021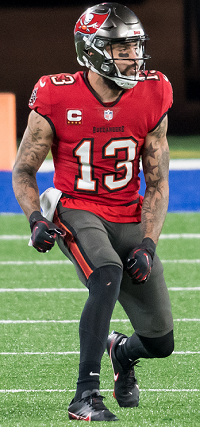 The Marshon Lattimore-Mike Evans rivalry reminds Joe of the wars future Hall of Famers Rondé Barber and Steve Smith, the angry former Panthers receiver, had 15 or so years ago.
Yeah, the Saints beat the Bucs on Sunday, but Bucco Bruce Arians said Evans got the best of Lattimore, the cornerback most Bucs fans despise.
"Mike was open a bunch," Arians told Bucs Total Access today on the team website. "And I think sometimes Chris [Godwin] was having such a big game, as a quarterback you get a little enamored and you stay away from a guy. But Mike really owned [Lattimore] in this game and it was a shame because we were wide open for a touchdown and you get grabbed and you get no call. That knocked [Evans] off just [enough]. That would have been another big 50 yard touchdown. So I thought Mike played really well."
The more Joe watches the game, the more Joe sees how the Bucs shot themselves in the foot in a wide variety of ways.
The Saints made their share of defensive plays, but Joe would bet on the Bucs putting 30 points on them every time.