Bruce Arians Drops The "E" Word
November 14th, 2021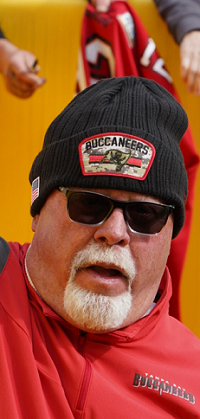 Dangerous quotes from Bucco Bruce Arians.
It's always scary when a head coach questions his team's effort, especially when it's a very team, a Super Bowl team, that knows what it takes to win.
Arians blasted the Bucs' "energy" after today's brutal loss in Washington. "Energy" is a nice way of saying effort.
As anyone who plays any sport knows, effort and energy are about heart and desire. You don't have to be good or big or strong to leave it all out on the field, court or ice.
It's obvious that Arians sees too many Bucs not playing not playing to the whistle or not running every route, or taking every tackling angle, like their football lives are on the line.
Consider the following Arians comments.
"We played with enough passion and energy for eight or nine minutes to win games in this league."
"We're not showing up on Sundays."
"It's very alarming to watch the energy that we practice with and show up with the lack of execution that it takes to win in this league on Sunday. We got a lot of soul searching to do."
"Energy and passion is very fixable. You know, the penalties, they gotta get corrected sooner or later. … The stupidity has to go away if we're going to go anywhere. … We're a very dumb football team, and that's a reflection of the coaches."
The "alarming" line from Arians is one Joe hasn't heard previously. The head coach is right. Collectively, were the Bucs the more physical, nasty team today? Did they look hungry for blood and a No. 1 seed?
No hunger. No Super Bowl.
It's that simple. It's on the players, and definitely on Arians to find new ways to motivate his troops.