Bruce Arians Details Rob Gronkowski Usage, Misusage
November 2nd, 2021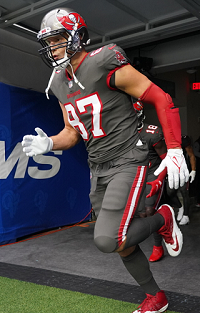 Kudos to Bucco Bruce Arians for his candor on the Rob Gronkowski situation.
Arians sat down with WFLA-TV sports director Dan Lucas after the groin-stomp loss to the Saints. During the chat, Lucas asked Arians point blank whether his Hall of Fame tight end should have played Sunday. Gronk had been out four games with busted ribs and was limited in practice prior to Sunday.
After saying in his postgame news conference that Gronk "probably" should not have played, Arians was more definitive yesterday.
Dan Lucas: Rob Gronkowski gave it a go in the game. It didn't work out for him. Should he have played?

Bruce Arians: No. We only planned on playing him in the red zone. And when he didn't make that catch that he makes nine of out of 10 times, it told me something. And then he went back out there and tried to block on a running play and his back spasmed up. So hopefully, you know, he's got 10 days to recoup and get it loosened up.
Again, Joe applauds Arians' candor.
Obviously, team doctors cleared Gronk to play but there was concern — and probably a heck of a lot of pressure from Gronk, who certainly has a history of playing through injury.
Joe hopes letting Gronk play Sunday was not a greedy mistake.