Big Game Repeat
November 13th, 2021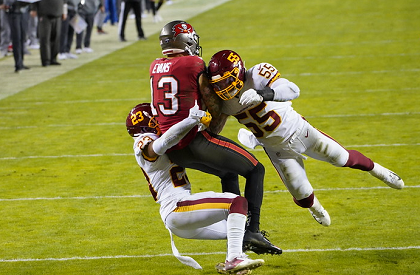 Bucs fans may have forgotten what happened when Mike Evans played in his first playoff game.
The greatest receiver in Buccaneers history was a force, despite playing hurt on a knee he messed up a week prior.
Evans cruised into Washington in January and racked up six catches for 119 yards to help lead the Bucs to their first playoff win since 2003. It was a beautiful thing on a night Chris Godwin had the dropsies and Cameron Brate broke out for his best game of the 2020 season, reminding fans he was still capable.
Joe is looking for another big game from Evans on Sunday.
The guy some consider Washington's best cornerback, rookie third-round pick Benjamin St-Juste, was ruled out of tomorrow's game against the Bucs with a concussion.
Washington already lost two corners to injuries and their big-money corner, William Jackson, is returning after missing two games with a knee injury. Joe hopes Jackson is assigned to Evans because that seems like a huge mismatch.
How much banged up Godwin will play tomorrow, if at all, is unclear. But Joe still thinks it's likely Tom Brady will hearken back somewhat to the way the Bucs played football during the Dirk Koetter era. Fire a ton of balls at Evans because great things will happen.