"Better Reads, Better Angles"
November 8th, 2021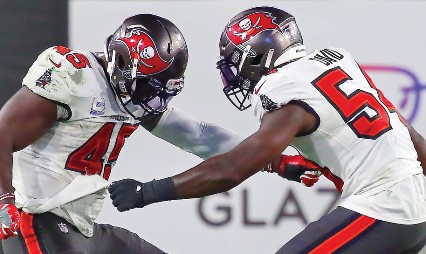 So what's the key for the Buccaneers defense in the nine-game stretch to close out the 2021 regular season?
Former Bucs tight end Anthony Becht (2005-2007) put his focus on the front-7.
Big plays haven't been there this season from Devin White and Lavonte David. Combined they have just two tackles for loss, plus no sacks, forced fumbles or interceptions.
"From a linebacker standpoint, maybe just some more splash plays, some better reads, some better angles, things that can contain the run game a little better," Becht said. "I think the last couple of weeks have shown some porousness in the run defense, something that hasn't been really an issue. And again, it's just all about just understanding keys and getting to your spots and being effective when you get there."
Again, Becht was talking about the Bucs' entire and mighty front-7. Becht seems to think that unit can carry the defense enough to lead it to where it went last February, assuming the Bucs don't fall apart with more injuries to the defensive backfield.
Joe agrees.