Will Tom Brady's Arm Fall Off?
October 11th, 2021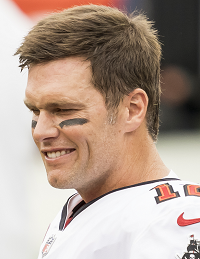 The headline is sarcastic — a nod to the legions of analysts who say Tom Brady's arm might not hold up if he throws too many passes this season.
Joe is not a doctor, unlike other local journalists. However, Joe does know Brady leads the NFL in pass attempts through five weeks with 225. A guy half his age, Justin Herbert, is second with 207 attempts.
At this rate, Brady will throw 765 passes this season. He's never thrown more than 637 in a regular season and 613 is his high as a 40-something quarterback.
So the question remains: Is there an endurance/strength issue to be concerned about? Is it realistic to consider that Brady's arm could weaken at this pace?
Perhaps the best answer lies with Brady's team of personal training gurus, along with the medical staff and sport science experts at One Buc Palace. Joe assumes those groups have hard answers to those questions.
Consider Brady came out firing yesterday with about 10:45 remaining in the fourth quarter despite holding a 38-17 lead. He went 3-for-3 on the 59-yard drive without handing off and the Bucs took a 45-17 lead.
Does Brady do that if anyone at One Buc Palace cares about how many pass attempts Brady has? Joe highly doubts it.
Of course, Bucco Bruce Arians wants to limit potential hits on Brady to keep him safe. More handoffs is the way to do that. But Joe is not buying that Brady needs a pitch count on game days.
If he does need one, rest assured nobody with the Bucs will ever admit it.