Tom Brady: "I'm Definitely Sore Today"
October 4th, 2021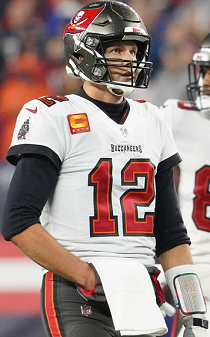 The fearless leader of the Buccaneers was talking today.
Tom Brady took to the SiriusXM Mad Dog Radio airwaves and reflected during his Let's Go! show about all things reunion Sunday in New England.
It was a bit of a yawner, though Brady did reference how it was a very emotional game and road trip for him in various ways, with a load of relatives in attendance and interacting with so many Patriots employees before and at the game.
Brady mentioned that he even knew the bus driver transporting him after the Bucs arrived in New England, and Brady talked about seeing and knowing the police chief of Foxborough, among others.
Essentially, he was trying to say he didn't realize how deeply he'd be impacted by the experience.
Brady also talked about the difficulty of the rainy weather on the game, noting the challenge and that he hadn't practice or played in those conditions since becoming a Buccaneer.
Perhaps most important, Brady said he's feeling the victory in his body.
"I'm definitely sore today. I took a few really good shots," Brady said.
Joe found that noteworthy because Brady never seems to mention pain or anything that he might be feeling physically that's negative.
As was explained on the show, Brady got home at 5 a.m. and it was back in the gym in the early afternoon. He said he had to go through his weight training regimen and then pliability routines.
It's all part of the process to keep a 44-year-old man dominating a game built for far younger dudes.