Receiver Trio Marching Toward Historic Season
October 11th, 2021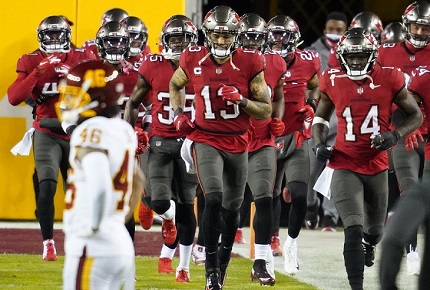 There's a page on the Pro Football Hall of Fame website devoted to five very special NFL offenses.
What they all have in common is three pass catchers with more than 1,000 yards in the same regular season.
The 2008 Cardinals, the 2004 Colts and the 1989 Redskins each had three wide receivers hit the mark.
For the 1980 Chargers and the 1995 Falcons, those clubs had non-receivers among their big three: tight end Kellen Winslow for the Chargers and versatile and electric Eric Metcalf of the Falcons.
Through five games this season, the Bucs are well on their way to having three 1,000-yard receivers.
After Sunday's pounding of the Dolphins, Chris Godwin is on pace for 1,244 yards. Mike Evans is in line for 1,336. And Antonio Brown, despite missing a game with COVID, is on track for 1,105 yards this season.
Yeah, it's a 17-game campaign in 2021, but all three Bucs studs are exceeding a 1,000-yard pace if it were a 16-game schedule.
Joe rambled on the Ira Kaufman Podcast all offseason about how this Bucs offense could be the best in NFL history. The potential was there, and now five games of production is in the books to back it up. Some guy named Tommy is even marching toward 6,000+ yards passing and 51 touchdowns.
Back in 2014, Mike Evans and Vincent Jackson each eclipsed the 1,000-yard mark despite Josh McCown and Mike Glennon throwing them the ball and no running game. So Joe is feeling awfully good about the prospect of Evans, Godwin and Brown making history.