Keep Chucky In The Ring Of Honor
October 12th, 2021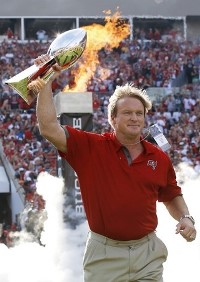 In the wake of Chucky resigning as Raiders head coach amid revelations he used racial and homophobic references in e-mails to then-Washington general manager Bruce Almighty (the former Bucs GM) over a period of seven years, including a lewd reference to Bucs co-chairman Bryan Glazer, Joe is getting pounded with the following question:
Should Chucky remain in the Buccaneers Ring of Honor?
Joe states emphatically that he should.
This is in no way giving Chucky a pass or condoning his repulsive musings.
These e-mails were written after Chucky was fired by Team Glazer and while he was working for BSPN.
Keeping Chucky in the Ring of Honor acknowledges what Chucky did for the Bucs franchise, guiding it to its first Super Bowl win. Chucky also has the most victories in franchise history. Until Bucco Bruce Arians came along, Chucky was the team's most accomplished coach.
If precedent is set removing Chucky from the Ring of Honor, you have a very difficult time stopping there. Simply put, Chucky isn't the only sinner enshrined in the stadium — or on the roster.
In 2015, Joe traveled to Buffalo to see the Bucs' preseason opener, also the debut of Jameis Winston. Sitting inside the stadium there, Joe was surprised to see O.J. Simpson proudly displayed on the team's historic Wall of Fame. It's a controversial topic in Buffalo, where the club has decided to not erase its history — which would make it harder to learn from that history.
The Bills did, however, unretire Simpson's number a few years ago.
Joe is not comparing Chucky to a violent predator, merely providing perspective. Registered sex offender Lawrence Taylor also has a place in the Giants Ring of Honor, for example.