Historic Impact
October 16th, 2021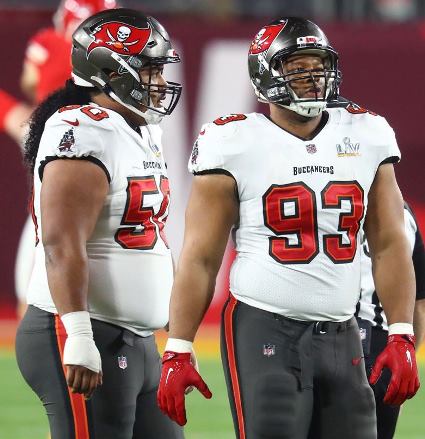 A former MVP sees iconic greatness in the Buccaneers defense.
No, not the old school Monte Kiffin brand.
The legendary 1985 Bears had Steve McMichael and Refrigerator Perry clogging up the middle of their defensive line in a way that hadn't really been seen previously. Then there was Sam Adams and Tony Siragusa with the lockdown 2000 Ravens, big two-gappers that you couldn't move off the ball.
Those descriptions came from former MVP quarterback Rich Gannon.
And when Gannon watches the Bucs today he sees a true iconic duo Vita Vea and Ndamukong Suh.
For Gannon, they drive the bus of the Bucs defense, not the dynamic duo of linebackers behind them, so he said on SiriusXM NFL Radio yesteray.
Gannon talked about not being able to move Suh and Vea off the ball and them collapsing every pocket to some degree. (Joe will note that fans should see what defensive tackles were off the field when the Eagles were driving late Thursday).
"This guy's a monster," Gannon said of Vea. "He's got like light feet, if there's such a thing. Just an amazing talent. I mean for a guy that size. I've just been so impressed with him. What a difference-maker."
Of course, Gannon referenced the Bucs' impactful pass rush and their historic run defense.
Joe thought it was a little comical that when Gannon was talking about legendary interior duos, he only referenced Bears and Ravens. A convenient omisson from a guy that lost a Super Bowl to Warren Sapp and the Tampa Bay defense.
Joe will add that the Rams took a step back defensively when Suh was no longer alongside Aaron Donald.