"Freelancing" Devin White
October 4th, 2021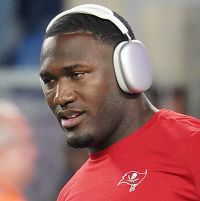 Four times in the history of Joe's coverage of the Bucs has Joe been told by true insiders that defensive players were doing too much freelancing.
It's not considered a positive thing.
The first offender was Albert Haynesworth, the former Pro Bowler who was brought in during the 2011 season to fill the gap left by Gerald McCoy's injury. Hayenesworth's freelancing dragged down the defense in a big way, Joe was told.
Next up was Jason Pierre-Paul. Joe was told there was some frustration brewing about JPP's freelancing in 2018. Joe later brought this up to an insider for confirmation, and Joe was told, "Well, Gerald McCoy does his share of freelancing, too. But not as much as JPP."
And now comes today's "freelancing" comment from Bucco Bruce Arians.
This one was public.
Joe asked Arians the following: "Coach, through the first four games, where do you see Devin White's game is when it comes to the very high bar and the standard for him?"
Arians' reply: "I think Devin's been really solid. He had a tendency sometimes to freelance a little bit because he's got so much talent, and sometimes it works and sometimes it doesn't."
It was an interesting answer by Arians. Joe's going to refrain from reading too much between the lines.
Of course, the Bucs want more than "really solid" from White. It's exciting to think what the defense can become if White elevates his game to what he delivered in the playoffs, in conjunction with the defense getting healthier and the newcomers like Richard Sherman and Pierre Desir getting past their learning curves.