Donald Penn: Jon Gruden Is Not A Racist
October 14th, 2021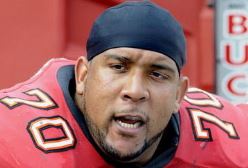 So many ex-Bucs have chimed in on Jon Gruden's NFL demise for all kinds of offensive language in his private emails to then Redskins executive Bruce Allen. But perhaps none know Gruden better than former Bucs left tackle Donald Penn.
Penn played for Chucky with the Bucs and then with the Raiders in 2018. Joe's confident he's the only guy to have that distinction.
Penn, 38, a friend of Joe and one of the great straight-talkers in Bucs history, joined SiriusXM NFL Radio today and shared his stunned disbelief at what his good friend Chucky did.
He described being close with Chucky since 2007.
"I know the racist part is not him," Penn said multiple times, insisting Chucky is not racist in any way though he can't speak to Chucky's slurs about other groups.
"Hurting and disappointed" is how Penn described himself and others who know Chucky. Penn said he's talked to former Bucs and current and former Raiders and insisted "we're all shocked."
Penn agreed that Chucky should have lost his job immediately and Penn is sure Chucky will "try to do everything to rectify this."
Essentially, Penn said Chucky's deep love of football makes his punishment extraordinary, and he's confident Chucky will do whatever he can to atone for his sins. Penn also said he will be offering his support and continued love to Chucky.
As for former Bucs special teams coach Rich Bisaccia taking over the Raiders' head coaching job, Penn said Bisaccia is by far the best guy for the job. "One thing about him, players respect him."