Comeback Likely For Lavonte David
October 29th, 2021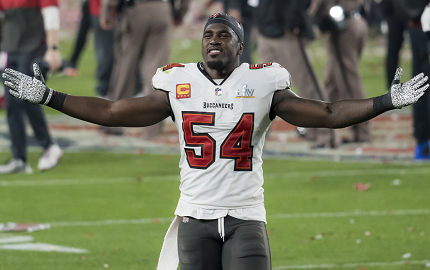 Joe is fired up.
The Bucs could have one of their superstars back in the lineup Sunday in New Orleans after a two-game absence.
Lavonte David has been practicing and it appears his sprained ankle is ready to go. That was the strong implication this afternoon from Bucco Bruce Arians.
In the Bucs' blowout against Miami on Oct. 10, David left with what appeared like a potentially ugly injury. Bucco Bruce Arians called it a high ankle sprain, but then NFL Network claimed it was a low ankle sprain. David's relatively quick return suggests the NFL Network report was on the money.
David represents an upgrade at linebacker, especially with his years of experience against the Saints offense and his ability in pass coverage.
Hopefully, David can get through the game without a setback and then heal even stronger during the Bucs' Week 9 bye.